Boston Gem Laboratory
Insurance ~ Estate ~ Casual Loss ~ Collateral ~ Comparison ~ Divorce ~ Damage
Sample Appraisal #3: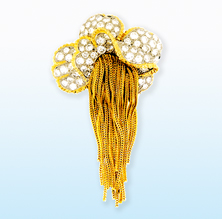 APPRAISAL FOR INSURANCE Sept. 5, 2011
On this day we have examined and appraised the item(s) described below for insurance purposes.
(1) One lady's 18 kt. yellow gold and platinum retro style diamond brooch, ca. 1940's, designed in a flower motif and completed with 18 kt. tassels of foxtail chain. The brooch is secured with an 18 kt. yellow gold tube style catch and hinge.
Brooch contains:
(79) Seventy-nine round full-cut diamonds measuring approximately
3.1 - 1.7 mm in diameter, weighing approximately 5.00 carats totally

Avg. Quality Grade:
color-G, clarity-VS

1

/VS

2

Dimensions:
23/4 inches height, 1

1/2

inches width
Total Weight:
29.1 Grams
18.7 DWT
Hallmarks:
partial French platinum or 18 kt. hallmarks
(dog's head or an eagle's head)
Manufacturing:
cast-and-assembled with textured borders,
bead set diamonds in platinum
Metal Purity:
tested
Condition:
very good
Gold Price:
based on $1,895.00 fine gold
(London market)
Platinum Price:
based on $1,872.00 (London market)
Total Replacement Value:
applicable taxes additional
$7,500.00

BGL, Graduate Gemologist
Client FYI: The appropriate market for the described brooch was determined to be major auction houses and the estate or previously owned jewelry market where sales of these items can be monitored. The value is based on replacement cost with a comparable item of similar condition, motif, and quality; the item replaced would not be an exact duplicate.
The replacement item is subject to the availability of a like item in the current regional market place. This item has been researched and examples of comparable items are documented.
"Jewelry is replaced by the description and not by the price on the appraisal."
One phone call and you will know why
BGL is the Alternative Solution!