Boston Gem Laboratory
Insurance ~ Estate ~ Casual Loss ~ Collateral ~ Comparison ~ Divorce ~ Damage
Sample Appraisal #1: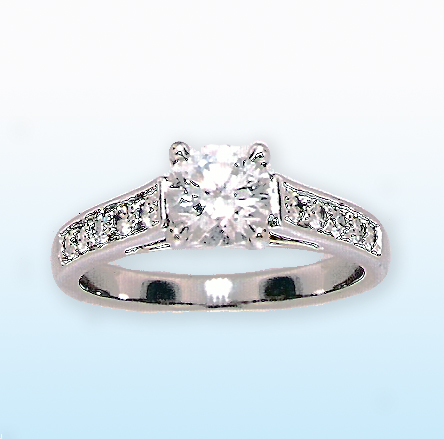 APPRAISAL FOR INSURANCE
August 19, 2011
On this day we have examined and appraised the item(s) described below for insurance purposes.

(1) One lady's 14 kt. white gold diamond engagement ring containing:
one round brilliant-cut diamond measuring approximately 5.95 - 6.02 x 3.64 mm, weighing approximately .81 carat, estimated by GIA formula

Cut Proportions:
Excellent (GIA Class 1A)
Light Performance:
Very Good (AGS Aset Scope)
Light Analysis:
based on evaluation of brightness, dispersion, leakage and contrast
Diamond Color:
E
Fluorescence:
medium blue
Diamond Clarity:
Sl

2

Polish:
Very Good
Symmetry:
Very Good
Est. Proportions:
depth 60.7%, table 60%
crown angle 35.5°
crown height 14.0%
pavilion angle 40.8°
pavilion depth 43.0%
Girdle:
faceted, medium to slightly thick
Culet:
none
Additional Diamonds:

(10) ten round full cut diamonds measuring
approximately 1.8 - 1.7 mm in diameter,
weighing approximately .25 carat totally
Avg. Quality Grade:
cut-class 3, color-G/H, clarity-Sl

1

/Sl

2

Combined Total Diamond Weight: 1.06 carats (approx.)
Total Weight:
2.5 DWT
Manufacturing:
bright finish, cast-and-assembled,
prong and bead set; stamped 14K
Metal Purity:
tested
Condition
new
Gold Price:
based on $1,848 fine gold
(London market)
Total Replacement Value:

applicable taxes additional

$6,500.00
BGL, Graduate Gemologist
"Jewelry is replaced by the description and not by the price on the appraisal."
One phone call and you will know why
BGL is the alternative solution!